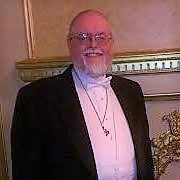 FATHER JOHN 
SINGS AGAIN!!
SONGS YOU ASKED FOR – OR SHOULD HAVE
On Monday evening, October 7, at 7 PM at the Halim Salfiti Theater, at the Bank Al-Etihad Headquarters, Father John Sheehan, SJ will present another evening of varied musical entertainment. Although he reserves the right to change his mind, the program will probably include music from 11 composers, 4 operas (if you count PORGY AND BESS as an opera), 5 shows plus folks songs, Country & Western and in 8 different languages. And of course, he always tells stories as part of the evening.
FATHER JOHN SHEEHAN is a Jesuit priest, currently Pastor of Sacred Heart Parish in Amman. He worked for many years in professional theatre and broadcasting and has had over 1,000 performances. He has appeared off-Broadway, in dinner theatre and regional theatres around the United States,  and sung in concert in at least 9 different countries.
Tickets are 10 JOD for general admission
5 JOD for children under 12 (limit of two children's tickets for each adult) and 5 JOD for students (who will be admitted at 5 minutes before the start of the concert) and these tickets are available at the Jesuit Center, through Father John himself or Karasi.com. Reservations may also be made on this website by going to the "Contact Us" link.
Patron tickets are 25 JOD and include a specified reserve seat (you get to tell us where you want to sit) and the Patron's name in the program and a special gift. Patron tickets may only be obtained through Fr. John directly or through the website.
Advertising in the concert program is also available – 50 JOD for a full page in color. You supply the camera ready art or we can put something together for you. Deadline for advertising is September 23 but space is limited and first-come, first-served.
You may make online reservations here by using this link and someone will contact you. You may also directly purchase general admission, student or children tickets through karasi.com but Patron tickets may only be reserved by contacting Father John or using this link.
The link for reservations: Click here