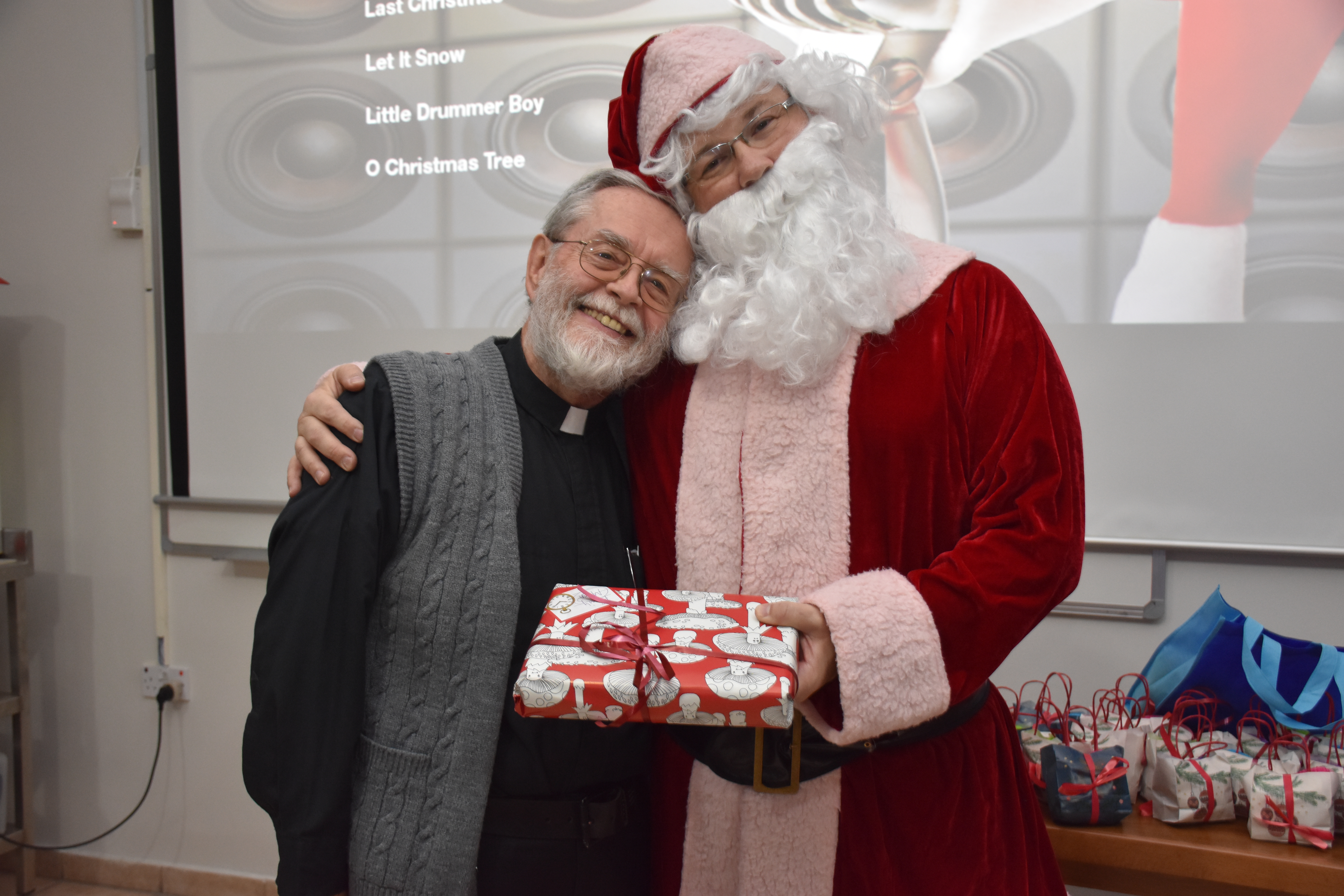 FATHER JOHN MEETS 
FATHER CHRISTMAS!!
SPECIAL NOTICE – PLEASE READ
Bank Al-Etihad is having to make emergency repairs in the area of the auditorium, and so have cancelled all events scheduled there until 30 October.  That concert originally scheduled for October 7 has been renamed and will now be presented on Monday November 18.
TICKETS FOR THE OCTOBER 7TH CONCERT
ARE VALID FOR NOVEMBER 18
FATHER JOHN SHEEHAN is a Jesuit priest, currently Pastor of Sacred Heart Parish in Amman. He worked for many years in professional theatre and broadcasting and has had over 1,000 performances. He has appeared off-Broadway, in dinner theatre and regional theatres around the United States,  and sung in concert in at least 9 different countries.
KARASI.COM is live and you can order your tickets direct on line from them. PATRON tickets still need to be reserved through Father John. 
Tickets are 10 JOD for general admission
5 JOD for children under 12 (limit of two children's tickets for each adult) and 5 JOD for students (who will be admitted at 5 minutes before the start of the concert) and these tickets are available at KARASI.COM, through Father John himself or reservations may also be made on this website by going to the "Contact Us" link.
Patron tickets are 25 JOD and include a specified reserve seat (you get to tell us where you want to sit) and the Patron's name in the program and a special gift. Patron tickets may only be obtained through Fr. John directly or through the website.
Advertising in the concert program is also available – 50 JOD for a full page in color. You supply the camera ready art or we can put something together for you. Deadline for advertising is October at 9 AM but space is limited and first-come, first-served.
You may make online reservations here by using this link and someone will contact you. You may also directly purchase general admission, student or children tickets through karasi.com but Patron tickets may only be reserved by contacting Father John or using this link.
The link for reservations: Click here