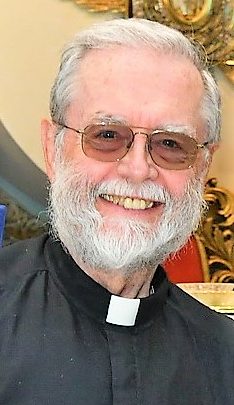 January 18, 2020
I usually do not duplicate the RAMBLINGS from the newsletter here, so that each column is special to the web page. The Ramblings from the newsletter for the Second Sunday of Ordinary Time is available in the archive section of Heartbeat – Spoiler alert I announce that I am leaving Jordan on March 3rd.
Below are the notes from which I preached last weekend, talking about my leaving in a larger context. For those who were not present, I share this with you now.
HOMILY NOTES for 2nd Sunday of Ordinary Time
January 18/19. 2020 – Amman Churches
The First Reading – The LORD said to me: You are my servant, – The response to the psalm – Here am I, Lord; I come to do your will. – 2nd reading – Paul, called to be an apostle of Christ Jesus by the will of God, and of course the Gospel, with one of the great examples of service and humility and obedience in all of Scripture – John the Baptist. Each reading speaks to the same idea –
And so today I want to talk about obedience. It is not a word we hear much in Church, and we should, because obedience is a crucial part of our faith, and should be a critical part of our lives. We need to think about obedience to the Commandments of God and the Commandments of the Church. Obedience to the spirit of the teachings of Jesus Christ and the traditions that have been handed down to us through the centuries. Obedience to our conscience, so that we have the courage to do – or not to do – the things that are right and the things that are wrong – to be aware of what we have done and what we have failed to do.
True obedience demands faith. You may obey out of fear – but that's not real obedience, it's coercion. You may obey out of greed or desire – to get something you want – but that's not true obedience, that's self serving. Obedience – true obedience, real obedience – demands faith and love. You have faith in the one you are obeying – or you love the one you are obeying and your obedience is a sign of that love. True in our relationships with one another – true in our relationship with God.
Obedience is not simple, and it is not always easy. When I was about to join the Jesuits, my friends were fascinated by the vows I would be taking and of course, especially my friends in theatre, they were particularly focused on the vow of chastity – celibacy. You mean you are never going to…..?
But even before I entered, before I started to live my life with the three vows, I had an instinct that the one that would prove the most difficult was going to be obedience. As I lived as a Jesuit, I learned about the vows – and especially obedience.
All religious take the vow of obedience – some to a Bishop, some to a religious Superior – but it is not simple, it does not mean we simply do what we are told, full stop, like well programmed robots. I cannot speak for other orders, but for a Jesuit, the foundation of the vow is that we believe – we trust – that  God is speaking through the Superior. As one former Jesuit said – I have to believe that when the Provincial makes an assignment, he has made the decision on his knees. So when we get a command from a superior, our first obligation isn't simply to obey, but to try and make that command our own desire – to get into the mind or the will of the Superior, to find the good in this order, to find God – and to make this our own. Now if after prayer and reflection we are honestly unable to do that – and the freedom to trust is key – we are obliged under our vow to go back to the Superior and tell him. At that point, HE is obliged under the vow to go through the same process with our objection. But if after that he says he still wants me to do X – whatever X is – then I obey, even if I disagree or do not understand – because I have faith in God and that God will speak through him.
I have said before, in a different context, but it is true – since ordination I have never gotten an assignment I asked for, and honestly, I have never had an assignment that I wanted. But looking back, I have always been in a place and at a time where I was able to make a difference, usually in ways and because of circumstances that neither I not the Provincial could have anticipated.
So obedience – in different forms – is a part of our Catholic life, and is a call and often a challenge for each one of us. And being the one in charge – being the one to give the orders and ask for obedience is often harder than having to obey.
I go into this because in the HEARTBEAT for this weekend – in the Ramblings of the Reverend Redactor – I share the news I received last week, the confirmation that I will be leaving Jordan on March 3rd. Now we all knew that my initial appointment was up on March 1st of 2020 – I even printed the appointment letter from the Patriarch's office in the Heartbeat. I thought the appointment would be renewed but in the intervening time, the authority for the work of the Jesuits has changed and is now with the Near East Province. In many ways this is a good thing, and hopefully will be good for both the Province and the Parish.
I would remind you of a few things. I have told you of the image that Fr. Anthony DeMello used – that religion is a signpost that points the way to God. But if you hang on to the signpost, you will never make the trip. The same thing is true of a priest – our job is to point the way to God, and if you become too attached to the priest – or if you really dislike the priest – the danger becomes not moving on to God. You don't leave the Church because you don't like the priest – and hopefully you don't COME to Church just because of a particular priest. You come because of God.
Jesus knew that. One of the best things Jesus did was to leave. He came – he suffered – he saved  mankind – and then he left. He trusted his followers to build the Church and share the message. It is, some would say, the ultimate act of faith that a leader has – to turn the operation over to another.  There is an old tradition in the Church that when the Bishop resigns he doesn't stay in the diocese. When a Jesuit Provincial finishes his term of office, he usually gets a sabbatical – a year away – sometimes very far away. And so it seemed good that when my appointment was up, it was the right time to move away.
I do it with trust and faith – in God, and in the prayer of the Provincials (and I have two in this position, and both had to agree to this) – I also have faith in this community, and many of you who have been here for longer periods have had many different priests ministering to your needs. And they were all different. Someone said to me – But Father, no one will be like you. True – but be honest, anyone who comes after me is going to be different, because I am different – I have different talents and experiences and ways of looking at things, and I use those. Although it is not official until we hear from the Patriarch's Office, our assumption is that Father Marc-Stephan Giese will take over this parish – and Fr. Linden will appoint him as Acting Pastor until confirmation comes from Jerusalem. And Fr. Marc-Stephan also has a great range of experience for one so young (I'm the oldest Jesuit in the community so they are all young to me!) and many talents and gifts and he – like me – will use them as best he can for the benefit of this parish. It will be different – but with faith and trust and my often repeated motto ringing in your ears – find God in All Things – trust me when I tell you that God is in this move and these decisions.
Of course I would like to have been here for first Confessions and Communion. Of course I would like to have another spring where I could sit on the roof of our house or lie in the hammock and look out over Amman. I will not miss the call to prayer, I have to be honest. Or the traffic. But there are many things and many people I will miss. If you have not read the Heartbeat I encourage you to do that. I am still Pastor until March 1 – so don't try anything.
Let me close where I began – obedience. I am starting to pack and organize and think about leaving with a confident heart and a peaceful soul. I may not be able to say exactly why and how God is in this, but I know He is. And there will be wonderful things that will come from this. Different – unexpected – things we would never expect – that is how God works. I have found all of this in the exercise of my vow, and my Provincial's decision is now very much my own. Find God in all things – that's the call, and that's what is always always always most important. The priest is only important as long as he points the way to God, so you can make the trip. The priest may or may not travel with you – but we are all making the same journey. And the destination is always – God.
And let us continue to pray for one another.
NEWSLETTER: The weekly newsletter includes information on the upcoming events, Masses and feast days.  

FOR JANUARY – 
Promotion of World Peace
We pray that Christians,
followers  of other religions,
and all people of goodwill may promote
peace and justice in the world.  
The Video of the Pope's Intention for this month:
The Jesuit Center
P.0. Box 212074, Amman 11121, JORDAN
Fax: +962 6 465-1315 (from outside Jordan: +962 06 461-1315)
Mobile in Jordan: 079 013-8985 (from outside Jordan: +962 79 013-8985)
If calling, please respect Jordanian business times: Monday-Thursday and Saturday from 9:15 AM – 5 PM. On Friday and Sunday, the office is closed, so on these days urgent calls should be sent over voice mail or e-mail.
If you want to come in and visit (please do!), it is always best to make an appointment by e-mail or phone. The Pastor's office is located at the south end of the Jesuit Center. On arrival, call me by intercom or mobile to be admitted; use the door at the south end of the building.
Email: pastorsh@jordanjesuits.org
We also have a Facebook Group. Search for "Parish Group," and if you ask to be a member of the group, you will be admitted. I will try to keep items of information, copies of weekly bulletins, special prayers and other announcements on this web site and on the Facebook group page. You can also have items sent to you directly via e-mail, including daily Lenten reflections, announcements of events, and the weekly bulletin.
———————————
FILIPINO MINISTRIES:    As of January, 2017, there is an appointed chaplain for Filipino Ministries.