A WORD FROM FATHER JOHN SHEEHAN, S.J.
16 June 2017 – Corpus Christi Sunday Sunday
I am currently in residence at Our Lady of Mercy Church in Forest Hills, Queen. It is a big parish, with a heavily diverse parish (I feel right at home!) and a grammar school. Today, the Saturday of Corpus Christi weekend, they celebrate graduation and in the afternoon, after the 5 PM Mass (weather permitting) there will be an outside procession for the Solemnity, bringing the Blessed Sacrament to 4 special altars set up outside, followed by Benediction and a reception in the Church hall. The recent group of First Communicants make up the Honor Guard for the Blessed Sacrament during the procession. It's a lovely idea.
One of the resident priests is going on retreat so I have volunteered to fill in for him. I said Mass several times this week and I will celebrate next week at almost every morning, including Friday's celebration of the Feast of the Sacred Heart. I'm sorry I won't be with you on this special day, but I will be praying for on that day, and my homily will be telling the people of this parish all about the Sacred Heart Parish in Amman.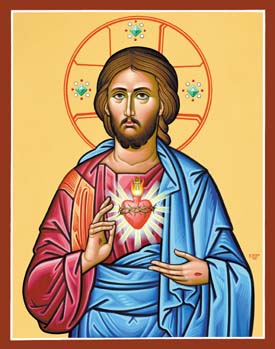 I am having a yard sale next Sunday – Father John's EVERYTHING MUST GO Yard Sale. (If it rains I'll use the Church hall, right underneath the Church.) Hopefully I will be able to send off many of possessions to new homes. I will return on July 12. I've had the chance to sing at a couple of events, and as I visit friends I've been to a couple of baseball games, a day on an island in Pelham Bay, a dinner cruise, and it seems everyone wants to buy me a meal. I am looking forward to being back in Amman.
As always, I and the Jesuit priests can be reached at the Jesuit Center, and the contacts follow.    Please note that it is always best to email or phone directly to make an appointment;   there is no receptionist at the Jesuit Center, and if you drop in, you may find us away or otherwise occupied.
---
HEARTBEAT
The Weekly Newsletter of the Sacred Heart English Speaking Parish
Each week,we post here a Newsletter for the parishioners of the Sacred Heart English Speaking Parish. It will be available at the churches in print form, it can be sent it via email directly to those who request it, and it will also be available on our Facebook "Parish Group"  page. Below is the link for all the editions in pdf format. If you have trouble accessing the pdf document, let me know.
heartbeat-vol-1-no-6-palm-sunday-final
heartbeat-vol-1-no-7-easter-sunday
heartbeat-vol-1-no-8-2nd-easter-final
heartbeat-vol-1-no-9-3rd-easter
heartbeat-vol-1-no-10-4th-easter
heartbeat-vol-1-no-11-5th-easter
heartbeat-vol-1-no-12-6th-easter
heartbeat-vol-1-no-13-7th-easter
Heartbeat vol. 1 No. 14 Pentecost
Heartbeat vol. 1 No. 15 Trinity Sunday
Heartbeat vol. 1 No. 16 Corpus Christi
CALENDAR OF UPCOMING EVENTS
June 17/18 – Solemnity of the Sacred Body and Blood of Christ
June 22 – Ordination to the priesthood at 5 PM at the Church of the Sacred Heart of Mary, Al-Fuhies
                 Administrator Archbishop Pierbattista Pizzaballa presiding
June 23 – Solemnity of the Most Sacred Heart – Patronal Feast of Our Parish
                 10:30 AM First Mass of Fr. Saqer Idhailan Hijazeen at St. Michael Church, Smakieh-Karak
June 24 – Solemnity of  the Nativity St. John the Baptist
                6:30 PM – First Mass of Fr. Joseph Odeh Al-Sweiss at Sacred Heart of Mary Church, Al-Fuhies
June 29 – Solemnity of Saints Peter and Paul
July 3 – Feast of St. Thomas, Apostle
July 12 – Fr. John returns to Amman

The Jesuit Center
P.0. Box 212074, Amman 11121, JORDAN
Phone: +962 6 461-4190 (Fr Sheehan's extension is 29) (from outside Jordan: +962 06 461-4190)
Fax: +962 6 465-1315 (from outside Jordan: +962 06 461-1315)
Mobile in Jordan: 079 013-8985 (from outside Jordan: +962 79 013-8985)
If calling, please respect Jordanian business times: M-Th, Sa 9:15 AM – 5 PM; Please, no Friday or Sunday calls. Outside of these business hours, send pastoral urgent calls and messages by voice mail or email, with thanks.
———————————
Email: pastorsh@jordanjesuits.org
We also have a Facebook Group – Search for "Parish Group" and if you ask to be a member of the group, you will be admitted. I will try to keep items of information, copies of weekly bulletins, special prayers and other announcements on this web site and on the Facebook group page. You can also have items sent to you directly via email, including daily Lenten reflections, announcements of events, and the weekly bulletin.
———————————
If you want to come in and visit (please do!), it is always best to make an appointment by email or phone. The Pastor's office is located at the South end of the Jesuit Center, 43 Al-Razi Street, Jabal Hussein, Jordan. On arrival, call me by intercom or mobile to be admitted; use the door at the South end of the building. I'll make sure you don't get lost.
FILIPINO MINISTRIES:    As of January, 2017, there is an appointed chaplain for Filipino Ministries. (link to Filipino Ministries ).