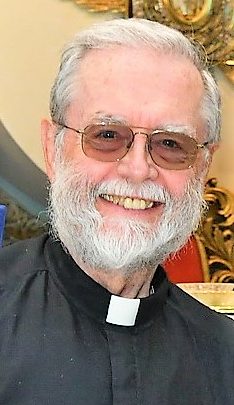 August 16, 2019
Since I last wrote here, we have had the great celebrations at the Jesuit Center for St. Ignatius Day, including the "Texas Barbecue" where well over 200 people joined us in the garden for food and friendship – and some gentle frolicking. We have had guests and visitors, and in less than a month, two Jesuit priests will be joining our community, which is exciting for us and for the potential of the works we have in Amman. As I write this, today is the anniversary of the day I entered the Jesuit Novitiate, and in all my years in the Society of Jesus, one of the things I have learned is the importance of community. We CAN do it alone, when we have to. (Of course, with God we are never truly alone.) But we join a religious order precisely for the companionship, the community – and so our two new brothers will be most welcome, and I know the rest of the parish community will welcome them as well.
We are in the final days for registering for the proposed trip to Malta. If enough people sign up (we need 15 to make the trip possible) we will be heading off for a 5 day pilgrimage to this beautiful and fascinating country. I am singing a concert on October 7th – and advertising is available in the concert program and in the 2020 calendar, which is in preparation. (This was an unpaid commercial announcement.) But before that, we will have a "Welcome/Welcome Back" Mass and reception on September 14th at St. Mary of Nazareth Church in Sweifieh, to sort of kick off the new year, as people return from summer travel or arrive to take up a new residence in Jordan.
There is a lot going on. But to be honest, there is always a lot going on. I have been saying to people, and I know I will say it again, that as they plan – as they look at the many things there are they HAVE to do and the even more they CAN do – it is important to make sure that spending time with God is on the list.
Of course going to Mass is important.  (I gently remind you it is also an obligation – a commandment, if you will. You choose to go to Mass or not – but not going by choice is a serious sin.) But so is spending time with God in prayer, both talking to God and listening. Giving yourself some quiet time is important – and quiet means more than noise or sound – using your computer fights against the stillness you need as a human being. Silence reaches into your very being and changes how you hear, how you breathe, sometimes even how you understand.
So – as you make your schedule and your list of "To Do" – put God on the list, and give Him some real place in your life and on your calendar. You will find it is perhaps the most important item on the list.
And let us continue to pray for one another.
NEWSLETTER: The weekly newsletter includes information on the upcoming events, masses and feast days.  

FOR AUGUST
Families, Schools of Human Growth
That families, through their life of prayer and love,
become ever more clearly "schools of true human growth."
The link to the video
The Jesuit Center
P.0. Box 212074, Amman 11121, JORDAN
Fax: +962 6 465-1315 (from outside Jordan: +962 06 461-1315)
Mobile in Jordan: 079 013-8985 (from outside Jordan: +962 79 013-8985)
If calling, please respect Jordanian business times: Monday-Thursday and Saturday from 9:15 AM – 5 PM. On Friday and Sunday, the office is closed, so on these days urgent calls should be sent over voice mail or e-mail.
If you want to come in and visit (please do!), it is always best to make an appointment by e-mail or phone. The Pastor's office is located at the south end of the Jesuit Center. On arrival, call me by intercom or mobile to be admitted; use the door at the south end of the building.
Email: pastorsh@jordanjesuits.org
We also have a Facebook Group. Search for "Parish Group," and if you ask to be a member of the group, you will be admitted. I will try to keep items of information, copies of weekly bulletins, special prayers and other announcements on this web site and on the Facebook group page. You can also have items sent to you directly via e-mail, including daily Lenten reflections, announcements of events, and the weekly bulletin.
———————————
FILIPINO MINISTRIES:    As of January, 2017, there is an appointed chaplain for Filipino Ministries.