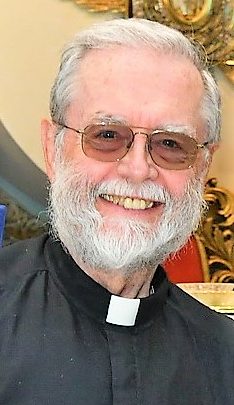 June 9, 2019
I have just finished two weeks of travel and visiting – ten time zones, family and friends and classmates from over 50 years ago, very different "cultures" even within a single country, and the hospitality of so many people in so many ways.
Travel is always good for us. It takes us out of our "comfort zone" and if we are open to it, it gives us the chance to find God in new ways and different places. It is often a test of our patience, and helps us to pray and reflect as our schedule changes from day to day. We have to balance the needs of our faith with the needs of being available to friends, we learn how easy it is to pack too much and we are reminded (at least >>I<< am reminded) that the call to celebrate can distract us from the needs of the day, whether it is laundry or diet or prayer.
Of course, the same can be said of our daily lives in our "regular" places. We know we have regular things we need to do to maintain our lives – laundry, exercise, diet, staying in touch with friends and family, improving our minds with study or reading or exploring new activities – and often enough, the "demands" of other parts of our lives can make those chores harder to fit into our lives. Prayer should be – must be – one of the items on that list.
Some people think that prayer should be treated as something special. I have heard people say that they can't "find a time" to pray. I'd like to suggest that while prayer can be, and perhaps should be, something special, at the same time, perhaps we should think about prayer in the same way we think about doing laundry or grocery shopping or washing the dishes. There are things in our lives that we need to do on a regular basis, and prayer is one of them and just as important.
The more we open ourselves up to God – which is not a bad definition of prayer – like everything else, it becomes easier the more we do it. We can, and should, set aside specific times for prayer, using silence and quiet and a particular place. But we can also take a moment and remember the presence of God in our lives; we can stop for a minute and dedicate what we are about to do as something done for God, which can be shopping or teaching or laundry or volunteering; we can begin the day with a Morning Offering Prayer, we can stop in the middle of the day and give God 5 minutes of reflection (as with the daily Examen of Consciousness, for instance), we can use the time waiting in a traffic jam or waiting for an appointment to reflect on a Gospel passage; in short, we can use the little moments of the day to keep in touch with God.
If that becomes a habit, you may find that the moments of deeper and dedicated prayer become more important, become richer, become more frequent occasions when God's grace and presence reach us in more significant ways.
St. Paul says that we should "pray always." Making God a more frequent part of our daily lives is one way to work toward that goal.
Let us continue to pray for one another.
EVENTS: The calendar lists the upcoming Masses, Feast days and Church events.
HEARTBEAT NEWSLETTER: The weekly newsletter includes information on the upcoming events, masses and feast days.  

FOR JUNE
That priests,
through the modesty and humility of their lives,
commit themselves actively
to a solidarity with those who are most poor.
The Jesuit Center
P.0. Box 212074, Amman 11121, JORDAN
Fax: +962 6 465-1315 (from outside Jordan: +962 06 461-1315)
Mobile in Jordan: 079 013-8985 (from outside Jordan: +962 79 013-8985)
If calling, please respect Jordanian business times: Monday-Thursday and Saturday from 9:15 AM – 5 PM. On Friday and Sunday, the office is closed, so on these days urgent calls should be sent over voice mail or e-mail.
If you want to come in and visit (please do!), it is always best to make an appointment by e-mail or phone. The Pastor's office is located at the south end of the Jesuit Center. On arrival, call me by intercom or mobile to be admitted; use the door at the south end of the building.
Email: pastorsh@jordanjesuits.org
We also have a Facebook Group. Search for "Parish Group," and if you ask to be a member of the group, you will be admitted. I will try to keep items of information, copies of weekly bulletins, special prayers and other announcements on this web site and on the Facebook group page. You can also have items sent to you directly via e-mail, including daily Lenten reflections, announcements of events, and the weekly bulletin.
———————————
FILIPINO MINISTRIES:    As of January, 2017, there is an appointed chaplain for Filipino Ministries.