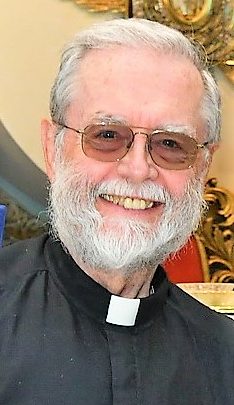 December 1 2019
The first Sunday of Advent. A time to prepare for the birth of Jesus Christ. And a time to look back as part of that preparation.
Personally – it has been a full and an active year. In November alone, I made my annual retreat (10 days of prayer and silence) followed closely by my second concert here in Amman, and a full physical check-up (2 sessions at the Abadali Medical Center where I learned a LOT about my body and my health, and I am pleased to note that the reports were good). First Communion class, Bible Study Group, Mass preparation group, Confirmation preparation, changes in the life of the Jesuit community with the addition of two new priests, Advent Basket cans distributed and the 2020 Parish calendar went to the printer – November alone was a month filled with activity and change.
Now we begin the preparations for Christmas. HEARTBEAT this week includes an examination of conscience, since going to confession should be part of individual preparation for welcoming Christ, not just at Christmas but every day. This is when we dig out the Advent wreath, dust off the Nativity scenes, start to wonder where we put those ornaments for the tree, and suddenly our social calendar is filled with concerts and parties and bazaars and celebration after celebration after celebration.
I would urge us to be aware of keeping Christ and His Church on our schedule, and to remember that "Christmas" actually starts on December 25th and goes for 12 days until January 6. It is impossible NOT to get caught up in the preparations and excitement, but Advent is its own season, and it is important, and preparing for Christ – which is, in its own way, different from preparing for Christmas – should be a daily part of these coming weeks. Not just a Sunday event, or a "when I remember" event but something we do every day, even if only for a couple of minutes.
When I was a small boy, I wanted to be Santa Claus when I grew up. Some people think that is why I wear a beard – and always let it grow longer before December. I discovered later in life that what I really liked was giving – I worked in theatre, where we give entertainment and joy and challenge. As a lay person I LOVED giving presents, and when I entered the Jesuits, giving away precious belongings was part of the joy. As a priest, my greatest moments are the ones when I can "give" the presence of God – in the sacraments, in counseling and conversation, sometimes just by being present.
Find the moments of joyful giving in your life. Pay attention to the things you do that bring you special joy. And once you have identified them, make the effort to indulge yourself in them more and more. I predict that you will find those moments that are the most joyful will always involve other people, will usually involve some form of giving, and often enough, won't cost you anything but time and love.
And let us continue to pray for one another.
NEWSLETTER: The weekly newsletter includes information on the upcoming events, Masses and feast days.  

FOR DECEMBER – 
The Future of the Very Young
That every country
take the measures necessary
to prioritize the future of the very young,
especially those who are suffering.
The Jesuit Center
P.0. Box 212074, Amman 11121, JORDAN
Fax: +962 6 465-1315 (from outside Jordan: +962 06 461-1315)
Mobile in Jordan: 079 013-8985 (from outside Jordan: +962 79 013-8985)
If calling, please respect Jordanian business times: Monday-Thursday and Saturday from 9:15 AM – 5 PM. On Friday and Sunday, the office is closed, so on these days urgent calls should be sent over voice mail or e-mail.
If you want to come in and visit (please do!), it is always best to make an appointment by e-mail or phone. The Pastor's office is located at the south end of the Jesuit Center. On arrival, call me by intercom or mobile to be admitted; use the door at the south end of the building.
Email: pastorsh@jordanjesuits.org
We also have a Facebook Group. Search for "Parish Group," and if you ask to be a member of the group, you will be admitted. I will try to keep items of information, copies of weekly bulletins, special prayers and other announcements on this web site and on the Facebook group page. You can also have items sent to you directly via e-mail, including daily Lenten reflections, announcements of events, and the weekly bulletin.
———————————
FILIPINO MINISTRIES:    As of January, 2017, there is an appointed chaplain for Filipino Ministries.