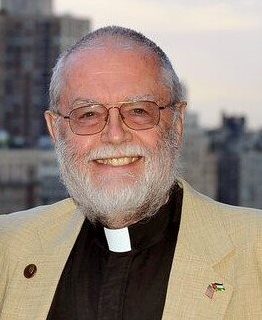 April 22, 2018
This past week we had a gentle reminder about reality. Our Bishop issued a letter restoring our calendar of worship to be in line with the rest of the Western (Latin) Church. We had been following the Orthodox calendar since Ash Wednesday, which this year was one week behind the Latin calendar. Suddenly, with the Bishop's letter, the 3rd week of Easter disappeared and we celebrated the Masses of the 4th week.
It certainly makes life easier for those involved in scheduling and coordination. But on a deeper level, it reminds us that the important thing isn't the calendar, it's the celebration and the deep spiritual meanings behind whatever the day is. "Find God in all things." You probably get tired of hearing me say it so often, but it was one of St. Ignatius' favorite directions to his men, and as I have experienced more of life, I continue to find it ever more important. God is not in the calendar, but in the reality of the day, whatever it is called.
Someone who was traveling right after Palm Sunday in Jordan realized that when they got to the US, because of the different calendars, "We're going to miss Easter!" Not really, because Easter is not so much a day as an event, and it is an event we celebrate every single day at Mass. Whether there is wonderful music and beautiful flowers and people dressed up (Of course I think people should dress up for Mass every day but I'm old-fashioned) or Mass is celebrated in reverential silence, the miracle on the altar is always the same. It is good we remember and enter into the Resurrection. But you can't "miss Easter" because the reality of that act of God is with us every day, if we are smart enough to pay attention.
Easter – Christmas – the Solemnity of the Ascension coming up – the celebration in our parish of First Holy Communion – these are wonderful events and we are right to celebrate them. But the miracle – the wonder of God's love – is present each and every day on the altars of churches all over Amman, and Jordan and in fact, the world. There is, in all probability, a Mass being celebrated somewhere in the world at every minute of every day – and given the Orthodox calendar and the international date line, that is probably even true on Good Friday.
So pay attention to the calendar (and by the way if anyone would like another copy of our parish calendar they are available at a special price – they're free but you do have to ask) but pay even more attention to the reality of God's love for us in your life each day. THAT is the reality – and I am grateful to the Bishop for reminding me of that, even though it might not have been his intention.
And let us continue to pray for one another.
APOSTOLIC EXHORTATION – LINK TO THE VATICAN WEBSITE BELOW AND A VIDEO THE VATICAN HAS PUT OUT AS WELL
The Link to the Exhortation on the Vatican website:
http://w2.vatican.va/content/francesco/en/apost_exhortations/documents/papa-francesco_esortazione-ap_20180319_gaudete-et-exsultate.html
All of the priests at the Jesuit Center are available for conversation, consultation and confession. It is always best to email or phone directly to make an appointment;  there is no receptionist at the Jesuit Center, so if you drop in, you may find us away or otherwise occupied.
CALENDAR OF EVENTS: The calendar lists the upcoming masses, feast days and church events.
HEARTBEAT NEWSLETTER: The weekly newsletter includes information on the upcoming events, masses and feast days.  
POPE'S PRAYER INTENTION FOR  APRIL
FOR APRIL
For those who have Responsibility in Economic Matters That economists may have the courage to reject any economy of exclusion and know how to open new paths.
The Jesuit Center
P.0. Box 212074, Amman 11121, JORDAN
Phone: +962 6 461-4190 (Fr Sheehan's extension is 29) (from outside Jordan: +962 06 461-4190)
Fax: +962 6 465-1315 (from outside Jordan: +962 06 461-1315)
Mobile in Jordan: 079 013-8985 (from outside Jordan: +962 79 013-8985)
If calling, please respect Jordanian business times: Monday-Thursday and Saturday from 9:15 AM – 5 PM. On Friday and Sunday, the office is closed, so on these days urgent calls should be sent over voice mail or e-mail.
If you want to come in and visit (please do!), it is always best to make an appointment by e-mail or phone. The Pastor's office is located at the south end of the Jesuit Center. On arrival, call me by intercom or mobile to be admitted; use the door at the south end of the building.
Email: pastorsh@jordanjesuits.org
We also have a Facebook Group. Search for "Parish Group," and if you ask to be a member of the group, you will be admitted. I will try to keep items of information, copies of weekly bulletins, special prayers and other announcements on this web site and on the Facebook group page. You can also have items sent to you directly via e-mail, including daily Lenten reflections, announcements of events, and the weekly bulletin.
———————————
FILIPINO MINISTRIES:    As of January, 2017, there is an appointed chaplain for Filipino Ministries.