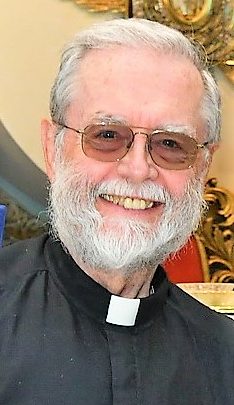 February 2, 2019
I usually have a separate message here from the one that appears in the weekly HEARTBEAT, "Ramblings from the Reverend Redactor." This week, however, I feel the "Ramblings" is so important, I am reproducing it here. 
On February 10, I will mark two years to the day since my arrival in Jordan. Sometimes it seems just yesterday, other times it seems much longer. Anniversaries are always a time for looking back and taking stock, and while I have done that with the production of two parish calendars, and two End of the Year Reports, there are a couple of things that I feel need to be done.
1) A Parish Advisory Committee. Most parishes have a Parish Council of one kind or another. The name may change but their responsibility is real. Because ours is a personal rather than a territorial parish, we are spared some of the obligations that Canon Law imposes. But a group of lay men and women to advise the Pastor is always a good idea, particularly in the area of supervising finances. Pastors come and pastors go, so a group representing the congregation also serves to provide continuity and a sense of history and tradition.
Therefore, this week I will be sending out invitations to some in the Parish to come and serve on the Parish Advisory Committee. I envision three or four meetings a year, with the knowledge that a particular event may suggest an additional meeting from time to time. But the Committee will decide that for themselves. The Pastor will sit in on meetings, but the Committee may have a meeting without him, or may ask him to excuse himself for a conversation, because although they will be advisory (without legal liability or responsibility) they will still be independent.
Should anyone in the parish wish to volunteer to participate in this, please let me know. Simply because you might not receive a letter from me does not mean you and your experience and your willingness to serve will not be welcome. In fact, just the opposite.
2) A Hospitality group. (The name can change.) In some Churches they are called Ushers, or Wardens, or Facilitators. We have a wonderful group of coordinators, but they cannot be everywhere or do everything. I see this group – at least two for each Mass, and in some cases, more – welcoming parishioners and guests, helping with directing traffic and helping people find seats, counting those present at each Mass, handling disturbances or problems, illness or accidents during the Mass, helping to evacuate in case of an emergency.
There would be a training session in each Church – Sweifieh and Freres – especially for evacuation procedures but also for the mechanics of how to proceed in a given situation. This group would take over none of the responsibilities or duties that are currently being done by the Coordinators, but would add to the smooth running of the Mass or special events, especially making all feel more personally welcome.
If this is an activity that you feel called to – ideally no more than once a month if enough people volunteer – please let me know. If people want to volunteer more frequently – and for many it becomes an enjoyable and enriching way of serving the community – that would be lovely. We have existed without it – but I feel that it will be a strong improvement in the weekly Masses.
Thank you for all you do – and thank you for those who will take on additional service to our community, our Church, and ultimately, to God.
And let us continue to pray for one another.
EVENTS: The calendar lists the upcoming Masses, Feast days and Church events.
HEARTBEAT NEWSLETTER: The weekly newsletter includes information on the upcoming events, masses and feast days.  

For a generous welcome of the victims of human trafficking,
of enforced prostitution,
and of violence.
The Jesuit Center
P.0. Box 212074, Amman 11121, JORDAN
Fax: +962 6 465-1315 (from outside Jordan: +962 06 461-1315)
Mobile in Jordan: 079 013-8985 (from outside Jordan: +962 79 013-8985)
If calling, please respect Jordanian business times: Monday-Thursday and Saturday from 9:15 AM – 5 PM. On Friday and Sunday, the office is closed, so on these days urgent calls should be sent over voice mail or e-mail.
If you want to come in and visit (please do!), it is always best to make an appointment by e-mail or phone. The Pastor's office is located at the south end of the Jesuit Center. On arrival, call me by intercom or mobile to be admitted; use the door at the south end of the building.
Email: pastorsh@jordanjesuits.org
We also have a Facebook Group. Search for "Parish Group," and if you ask to be a member of the group, you will be admitted. I will try to keep items of information, copies of weekly bulletins, special prayers and other announcements on this web site and on the Facebook group page. You can also have items sent to you directly via e-mail, including daily Lenten reflections, announcements of events, and the weekly bulletin.
———————————
FILIPINO MINISTRIES:    As of January, 2017, there is an appointed chaplain for Filipino Ministries.