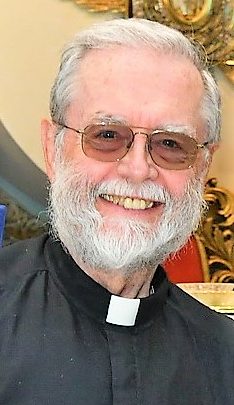 October 11, 2019
I am – once again – mildly amazed, always in awe and tremendously gratified at the generosity of people.
Next week on October 18 the Parish, through the care of poor group, will be hosting a picnic at the Jesuit Center for a group of children – mostly orphans – from the SOS Children's Village. They will have an art activity where they will paint and draw, and then a lunch of their favorite "American food" – hamburgers and pizza and French fries and donuts and sodas. That is a good thing all by itself, but we hope to take it one step further and, selecting the three "best" of the drawings, to put them on t-shirts, sell the shirts and donate the money raised back to the SOS organization. (I believe the technical term is a "win-win."
The idea came from people in the group and the response has been humbling. People volunteering their time – donating money and equipment  ("Father I can't come to help out in person but let me give you something for the event.") – it has been an enriching time helping to get this together.
The generosity of our parish, in the Second Sunday collections, in the receptions for special events and supporting projects like the Advent Basket campaign, the heating project, providing flu shots, the annual Iftar dinner and this newest endeavor, is the public witness of the call of Jesus Christ to love one another. Jesus told the parable of the Good Samaritan; all I have to do is talk about Sacred Heart Parish and the wonderful people we have who put their faith into action again and again.
In the coming week we will, of course, be busy and praying that it does NOT rain on Friday. I suspect we will have fun with the children, especially helping them to exercise their creative powers. And I know I will be offering a special prayer of Thanksgiving for this wonderful and generous parish.
Let us continue to pray – for ourselves, and for each other, and especially for those we are privileged to serve.
NEWSLETTER: The weekly newsletter includes information on the upcoming events, masses and feast days.  

FOR OCTOBER – 
Evangelization – Holy Spirit
That the breath of the Holy Spirit
engender a new missionary "spring" 
in the church.
The Jesuit Center
P.0. Box 212074, Amman 11121, JORDAN
Fax: +962 6 465-1315 (from outside Jordan: +962 06 461-1315)
Mobile in Jordan: 079 013-8985 (from outside Jordan: +962 79 013-8985)
If calling, please respect Jordanian business times: Monday-Thursday and Saturday from 9:15 AM – 5 PM. On Friday and Sunday, the office is closed, so on these days urgent calls should be sent over voice mail or e-mail.
If you want to come in and visit (please do!), it is always best to make an appointment by e-mail or phone. The Pastor's office is located at the south end of the Jesuit Center. On arrival, call me by intercom or mobile to be admitted; use the door at the south end of the building.
Email: pastorsh@jordanjesuits.org
We also have a Facebook Group. Search for "Parish Group," and if you ask to be a member of the group, you will be admitted. I will try to keep items of information, copies of weekly bulletins, special prayers and other announcements on this web site and on the Facebook group page. You can also have items sent to you directly via e-mail, including daily Lenten reflections, announcements of events, and the weekly bulletin.
———————————
FILIPINO MINISTRIES:    As of January, 2017, there is an appointed chaplain for Filipino Ministries.