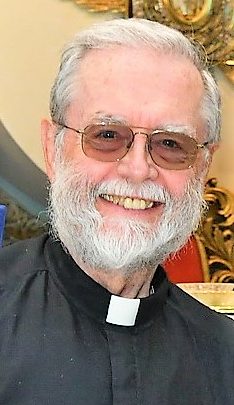 October 18, 2018
Feast of St. Luke, Evangelist
It was on this day in the year 1999 that I discovered I was not afraid to die. I was in Lagos, Nigeria, and my neighbor had sent a message he wanted to see me. He was an Alhaji and we were good friends. I went out to the gate and he introduced me to a friend of his, who had come with his family for dinner. He was an Assistant Inspector General of Police – a very high position in the Nigerian police – and as I was later to find out, he was a very good and an honest man.
We had had a number of armed robberies in the neighborhood and the three of us were standing outside, discussing how we might work together to make the area safer. A car drive up, and started to turn around. We lived in a close – a dead end – and often people would come along thinking they could leave the area until they realized there was nowhere to go.
Suddenly three men got out, with guns, and ordered us to lie on the ground. The police officer and I were on one side of the road, and the Alhaji was on the other. One of the men walked up to the officer and said, "I know you! You are police!" And he fired three bullets into the man's spine. After a beat, he fired to more into his head. He emptied his pockets, rolled him over and checked his front pockets, and then had me stand up. I had the man's brains and blood on my pants.
The three men did not wear masks, so I assumed we would be killed next. They took everything from my pockets and then ordered me to take them into the house and give them money. I had two older priests in the house, so I said we had no money, they had emptied my pockets – I was a poor Reverend Father. We went back and forth, they went after the Alhaji, and finally they drove off. We both thought they had been police themselves, who recognized the AIG and killed him so he could not identify them. It later turned out they were assassins who had been hired to kill him because he was interfering in some of the dishonest schemes in the police department.
The bottom line, though, is that I discovered that while I did not want to die – and I did everything I could to talk my way out of being killed – I was not scared to die. I had no bad after-effects, no bad dreams, no nervousness. That, I think is a good thing to know. We talk about the power of God and the salvation that Jesus won for us. But many, I think, are also scared of death and scared of dying. We can talk intellectually about heaven – but until you face the moment when you think your time has come, you never know how you will react.
I was pleased with my discovery, and almost twenty years later I am still relaxed at the thought of facing God. Oh there are things I want to do, and if God lets me live to be 100, I won't complain. But at the same time – I anticipate a certain sense of freedom when I know I won't have to do any more laundry, or take any more responsibility, or ask for any more money. That will all belong to someone else – and I will belong to God.
As we look at the calendar, Advent is almost upon us, and we prepare not to die but to welcome God becoming man. If there was every a cause for joy, this is it. In the next edition of HEARTBEAT (the one for the 30th Sunday) are some proposals for activities during Advent. I'd love to get a response – just a two word email, or a phone message or even a text – love this, hate that, would come but this date doesn't work – it is, I will admit, depressing, to announce something and have absolutely NO response. So take a look and share your feelings. If I have a bad idea, please let me know. If you have a better idea, DEFINITELY let me know.
And let us continue to pray for one another.
All of the priests at the Jesuit Center are available for conversation, consultation and confession. It is always best to email or phone directly to make an appointment;  there is no receptionist at the Jesuit Center, so if you drop in, you may find us away or otherwise occupied.
CALENDAR OF EVENTS: The calendar lists the upcoming Masses, Feast days and Church events.
HEARTBEAT NEWSLETTER: The weekly newsletter includes information on the upcoming events, masses and feast days.  
POPE'S PRAYER INTENTION FOR  OCTOBER
The Mission of Religious
That consecrated religious men and women may bestir themselves, and be present among the poor, the marginalized, and those who have no voice.
The Jesuit Center
P.0. Box 212074, Amman 11121, JORDAN
Fax: +962 6 465-1315 (from outside Jordan: +962 06 461-1315)
Mobile in Jordan: 079 013-8985 (from outside Jordan: +962 79 013-8985)
If calling, please respect Jordanian business times: Monday-Thursday and Saturday from 9:15 AM – 5 PM. On Friday and Sunday, the office is closed, so on these days urgent calls should be sent over voice mail or e-mail.
If you want to come in and visit (please do!), it is always best to make an appointment by e-mail or phone. The Pastor's office is located at the south end of the Jesuit Center. On arrival, call me by intercom or mobile to be admitted; use the door at the south end of the building.
Email: pastorsh@jordanjesuits.org
We also have a Facebook Group. Search for "Parish Group," and if you ask to be a member of the group, you will be admitted. I will try to keep items of information, copies of weekly bulletins, special prayers and other announcements on this web site and on the Facebook group page. You can also have items sent to you directly via e-mail, including daily Lenten reflections, announcements of events, and the weekly bulletin.
———————————
FILIPINO MINISTRIES:    As of January, 2017, there is an appointed chaplain for Filipino Ministries.